for work in interfaith peace and justice
The Reverend Kyotaro Deguchi, Adviser to the Oomoto Foundation, was one of six recipients of the 2007 James Parks Morton Interfaith Award for work in interfaith peace and justice.
He and the others were honored at the Interfaith Center of New York's 10th Anniversary and 5th Annual James Parks Morton Interfaith Awards Dinner, held Tuesday, June 12, 2007, at the Rubin Museum of Art in New York City.
The award to the Reverend Deguchi is a great honor for all of us at Oomoto, not only for the recipient himself. The award was presented for his lifetime commitment to interfaith work, both in Japan and worldwide.
Several generations of Oomoto leaders and followers have been active in interfaith work since the Reverend Deguchi's grandfather, Co-Founder Onisaburo Deguchi, expressed the sect's doctrine of "Bankyo Dokon" – all religions come from the same source – more than eight decades ago.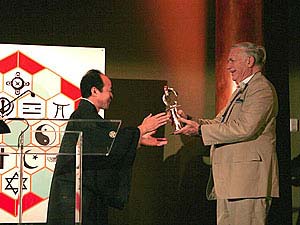 The other recipients of this year's James Parks Morton Award were:
◆ Rev. Dr. Joan Brown Campbell, Environmental-human rights-interfaith leader
◆ Mr. Nicholas D. Kristof, Pulitzer Prize winning Op-Ed columnist for the New York Times and global human rights advocate
◆ Prof. Steven C. Rockefeller, Educator and global environmentalist; creator of The Earth Center
◆ Prof. Carl Sagan, Posthumous award for pioneering work in astronomy, the environment and interfaith activities
◆ Mr. Paul Winter, the world's premiere environmental musician
Over the years, the Interfaith Center of New York has honored people throughout the world for their efforts in the realm of interfaith peace and justice:
1997 (the first year of The Interfaith Center—in conjunction with the Temple of Understanding's Juliet Hollister Award)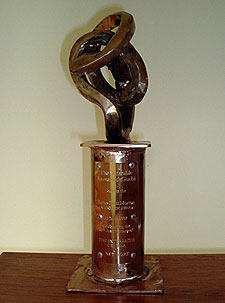 ◆ H.H. Dalai Lama, 1989 Nobel Peace Prize Laureate from Tibet
Mary Robinson, former President of Ireland and U. N. High Commissioner for Human Rights
Ravi Shankar, world famous musician and peace activist from India
2002 (The first year of the Interfaith Center's JPM Interfaith Award)
◆ President Bill Clinton
Alan Slifka, Interfaith philanthropist
James Carroll, Author
2003
Daniel and Nina Libeskind, Architects, Winners of the Design for Ground Zero from Germany
Archbishop Desmond Tutu, 1984 Nobel Peace Prize Laureate, former Archbishop of Johannesburg, South Africa
2004
Santiago and Robertina Calatrava (Spanish architect and his wife)
Ossie Davis and Ruby Dee
Judge Shirin Ebadi, 2003 Nobel Peace Prize Laureate, Judge, Muslim Lawyer, Human Rights Activist from Iran
Phillippe Petit and his partner Kathy O'Donnel, World Trade Center high wire walker
2006
U.S. Supreme Court Justice Stephen Breyer
Dr. Mohammed El Baradei, Director General of the IAEA and 2005 Nobel Peace Prize Laureate from Egypt
Richard Gere, Human Rights Activist
Imam Feisal Abdul Rauf and his wife, Daisy Khan
Mata Amritanandamayi (Amma), spiritual leader and humanitarian from southern India
(Reported by Masamichi TANAKA)
---