Oomoto conducted an Utamatsuri, Poem Festival, on April 17, 2008, to celebrate completion of the new building at its Tokyo Headquarters.
The highlight of the event was the participation of Egyptian Ambassador Walid Abdelnasser; Jordanian Ambassador Samir Nouri; Palestinian Chief of Mission Waleed Siam; Israeli Deputy Chief of Mission Chaim Choshen on behalf of Israeli Ambassador Nissim Ben Shitrit; and 100 Japanese religious representatives, all of whom dedicated their poems at the altar.
The event started with purification by the sound of the Noh flute. Chanters, players of the bow drum and yakumogoto, and priests took their seats. Then the Chief Priest recited the Poem of Yakumo and the Poems of Utamatsuri. For more details on the history and ritual of Utamatsuri, please refer to the following page: 
After recitation of the poems written by the Oomoto followers, the chanters recited the poems written by various Japanese religious representatives, and finally the poem written by the Spiritual Leader for this occasion: "We transcend nation, language and religion, with beautiful words and just pray for worldwide peace at this poem festival."
A brief talk on the Poem Festival by Prof. Masaaki Ueda, professor emeritus of Kyoto University, concluded the first part.
The second part commenced with the entry of the Ambassadors of the Middle East. The chanters recited the poems written by the Ambassadors in Arabic and Hebrew, and the poem by the Spiritual Leader.
The Ambassadors of the Middle East greeted the worshippers, and shook hands and embraced each other amid an outpouring of applause, and the snapping of many photos by the audience.
It was the fifth traditional poem festival held by Oomoto in the Tokyo metropolitan area: in 1951 in Odawara City, Kanagawa prefecture; in 1955 at Hosho Noh Theater in Tokyo; in 1985 and in 1998 at the Oomoto Tokyo Headquarters.
(Reported by Masamichi TANAKA)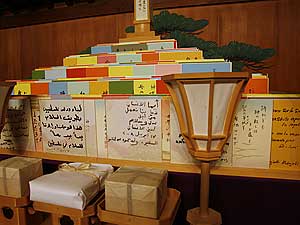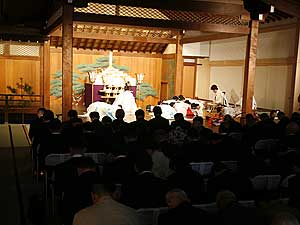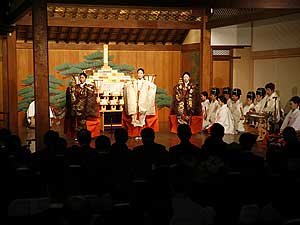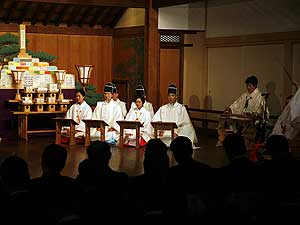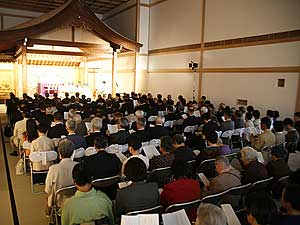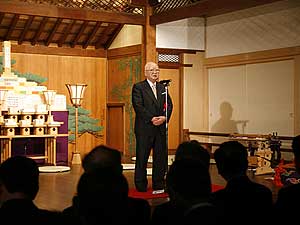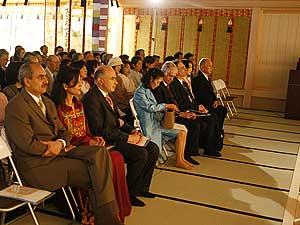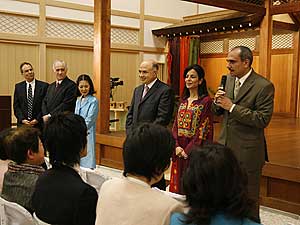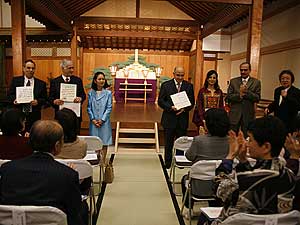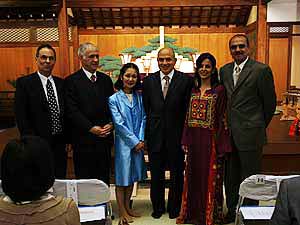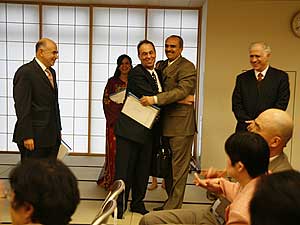 ---