A Portrait of Oomoto
By Bill Roberts
Bill Roberts delivered the following speech at Setsubun on Feb. 3,2006
Konbanwa. Bill Roberts des. Yoroshiku. Onegaishimasu.
It is an honor to speak at Setsubun again. One year ago tonight I stood here and talked about the book I was working on. I completed the book in December and it has now been published by Tenseisha Press.
I want to thank you, the followers of Oomoto, for making this book possible. Without your help, I could not have written it. I hope you will celebrate the completion of this book as much as I do.
The name of the book is: "A Portrait of Oomoto" And it has a subtitle: "The Way of Art, Spirit and Peace in the 21st Century".
This is the first comprehensive book written about Oomoto in English in 30 years. It has 336 pages and contains nearly 500 photographs, selected from the 20,000 pictures I took.
The Oomoto Foundation commissioned me to write this book to give people outside Japan an understanding from a Westerner 's perspective of the many aspects of Oomoto: rituals, history, biographies of the founders, the traditional Japanese arts, agriculture and interfaith activities.
To write and photograph this book I spent more than a year living at Oomoto, arriving in October 2004 and leaving in December 2005. As many of you know I also had visited Oomoto several times before I spent those fourteen months here.
I would like to tell you a little bit about how this book came to be a reality.
After I spent three months at Oomoto writing for your Web site in late 2001, I had an idea for doing a book. But I knew I would need a lot more research and that would mean spending more time at Oomoto. I also knew I would need a great deal of help from Oomoto followers to write the kind of book I wanted to write.
I returned to Oomoto in November 2002 to write about your Second Prayer Offering and World Religious Forum. Two days before the forum I met with the Fifth Spiritual Leader for the first time. She invited me to Sengetsu-tei, the Teahouse of the Washing Moon.
While we were having tea I told her I might like to write a book about Oomoto someday. She responded favorably. She encouraged me and noted that it had been three decades since Frederick Franck wrote his book, called "An Encounter with the Great Origin"
I am sure it was the discussion with the Spiritual Leader that set the stage for this book. But it would be two more years before I could spend enough time at Oomoto to write and photograph it.
I am certain the Spiritual Leader would agree with me that the real credit belongs to you, the people of Oomoto. Without your help, your openness and your friendliness this book would never have been written.
You see, I not only wrote about Oomoto 's history and ritual. I wrote many stories about Oomoto followers. To do this, I traveled to many of your branch shrines.
I visited six branches during the 14 months I lived here. On earlier visits I had visited about six other branches. On each of these branch visits I met many interesting people — too many to name them all.
With the help of my translators I met and interviewed men, women and young people. We talked about why they were Oomoto followers; the importance of the arts in their lives, and the importance of their faith and the Oomoto way of life.
This helped me understand and be able to explain to readers how Oomoto is a living and breathing faith practiced by farmers, business executives, entrepreneurs, salary workers, civil servants, housewives, artists, teachers and Japanese from all walks of life.
In all, I conducted interviews with more than 100 Oomoto followers. I also interviewed the Spiritual Leader, and some of the Oomoto leaders like Hirose Yasumi the President of the Oomoto Foundation, Shimamoto Kunihiko, the Chief of the Oomoto Foundation, and Iwasaki Kuneo, Vice Chief of the Oomoto Foundation.
Three other members of the Deguchi family helped me a great deal in understating Oomoto s history, its doctrine and the importance of the arts. They were Hisao, Kyotaro and Masato Deguchi.
I would also like to acknowledge the person who first brought me to Oomoto. She happens to be here tonight. Coeleen Kiebert of Santa Cruz, California, is my ceramics teacher. In 1999 she led a group of her students to Oomoto. So I want to thank her publicly because that was my introduction to Oomoto.
When all is said and done, this book would not have been written without all the help from you, the people of Oomoto. And for that I thank you. This book is as much your book as it is my book.
Please join me in giving ourselves a big round of applause.
I try to tell the stories in my book from the perspective of a person from the West, and I try to relate as much as I can of Oomoto beliefs and practices to things that Westerners of the Judeo-Christian tradition will understand.
As part of my research I did a great deal of reading, and I attended Oomoto's important festivals and rituals, including Setsubun and the other Grand festivals.
I attended special services at Takeda, Nara and Uedani. I spent all day photographing the Miroku Noh last May. I went to many Tsukinamisai and attended the special monthly services at Mount Takakuma several times.
I began writing on March 11 and wrote for seven months straight. My creative energy is at its best at night, so I usually began writing around 8 or 9 PM and worked until 1 or 2 in the morning. During the day I would revise what I had worked on the night before.
Because of this schedule, I was not able to attend the morning prayer at the Banshoden on most days. I apologize.
By far the two most important events for me, the ones that impacted me personally were Setsubun last year and the pilgrimage to Meshima in July. There is a chapter about each of these events in my book. Let me tell you a bit about these experiences.
We do not have anything like Setsubun in the West.
In my book I describe Setsubun, as practiced by Oomoto, as a combination of the Christian Christmas and Easter combined. Christmas is the celebration of the birth of Jesus. And Easter celebrates Jesus s resurrection after he was crucified.
For devout Christians, Easter is also about salvation from sin, which is somewhat similar to Oomoto's idea of purification.
At Setsubun last year, when I went to the bridge the second time to watch the priests throw hitogata into the river, I had a personal and moving experience.
As I watched the hitogata flutter like snowflakes into the river I felt the presence of my grandfather, who died long before I was born.
This was a unique experience for me, something I had never felt before. How strange to come to Japan to have this feeling of my grandfather present with me at the climax of Setsubun. I felt as if his spirit was with me on the bank of the Wachi River.
The other event that was so meaningful was the trip to Meshima. I believe I was the first non member of Oomoto and certainly the first non Japanese to ever attend one of the Meshima pilgrimages. I count myself extremely fortunate.
As you know, before you go to Meshima you must purify. I asked people who were going what they were doing to purify. Most said they were not drinking beer or sake as part of their purification.
I don't drink alcohol so I could not use that to purify. I thought and thought about what to do to purify. Then I had an idea.
I love chocolate and I craved it when I wrote each night. I was eating too much. So to purify, I stopped eating chocolate for three weeks before we went. It was very hard to do.
I also read each day the biography of Nao Deguchi and the story of her trips to Meshima, which have been translated into English.
Meshima turned into a physical and spiritual adventure, and those of you who were there know what I mean. The waves were quite naughty that day and many people got wet crossing over to the alcove for the service. But we all returned safely. I'm sure it was God's grace that got us there and back again.
A day or two after the trip, a nice box of chocolates was delivered to me in the International Department. They were from the Spiritual Leader.
I would like to close by telling you how I believe God's grace carried me through this book project.
I started writing on March 11 and wrote just about every day until early October. I missed maybe five days during that time. I was also still doing research during those months and taking photos.
There were many times when I was not certain what I was going to write at night. Then when I started up my computer and put my fingers on the keys the words just flowed out.
I always had the bigger problem of writing too much and having to take things out rather than not being able to write.
I am pretty certain this was God working through me. There were times when I was tired and cranky and did not want to write, but if I just showed up at the computer some power greater than myself seemed to take hold and I got some writing done for the night.
This was a most powerful experience. I am convinced God was doing for me what I could not do for myself at times. And I am sure that the faith and commitment of the people Oomoto to their mission was also a force that helped propel me forward.
So what I hope you understand is this. Although I am the writer and photographer of the book, and my name is on the cover, the people of Oomoto helped me write this book, the Spiritual Leader helped me write this book and ultimately, I believe God helped me write this book.
It is my hope that this book will serve Oomoto well for many years to come. My only regret is that I did not get to visit more branches and interview more Oomoto followers.
In the years ahead I hope to continue to visit branches and to interview more followers. Then if I'm still around in ten or fifteen years I can do a revised edition of the book!
For now, let me tell you that spending 14 months at Oomoto to write and photograph this book was one of the highlights of my life, both personally and professionally.
As many of you know, I have been a newspaper and magazine journalist for nearly three decades. I have covered some of the major stories of our time.
But nothing compares to this opportunity you gave me to write about you. This is certainly one of the highlights of my life as a writer and I thank you for it.
I need to ask your help with one more thing. The Spiritual Leader and others who gave their blessing to this book would like to see it published in Esperanto and Japanese someday. We have decided that the money we make from selling the book will be used for these future publishing efforts.
So I am asking your financial support. Later tonight we will be selling the book downstairs and I will autograph your copy if you buy one. I know many of you do not read English but as I said there are nearly 500 photos. You can enjoy the book by looking at the pictures.
The book costs 3,000 yen or $30. All the proceeds will be used to translate and publish Esperanto and Japanese editions in the future.
It has been an honor to speak as we begin this Grand Festival of Setsubun. I am most grateful to be here a second year in a row, and I look forward to a continuing long association with Oomoto.
The interfaith work you do, the message of peace and tolerance you offer the world and your commitment to the traditional arts as a spiritual practice are so necessary in our chaotic 21st century.
Kyo-wa watashino hanashi-o. O-kiki kudasari. Arrigato gozaimashta.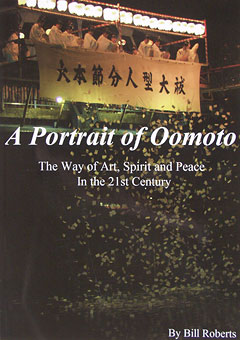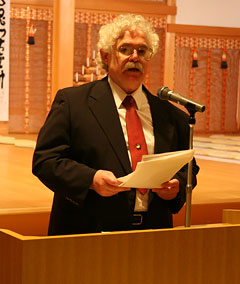 ---