By Dr.Ron Kronish, rabbi (November 5, 2002)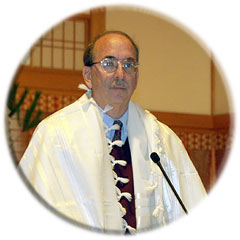 Second World Religious Forum Held in Kyoto, Japan
I was privileged to participate as the Jewish representative to the Second Prayer Offering and World Religious Forum, held in Kyoto, Japan, yesterday. Sponsored by the Oomoto Foundation and its affiliate, the Universal Love and Brotherhood Association, the forum's theme was "Dignity of Life – Towards the Realization of a World of Peaceful Coexistence." The First Prayer Offering and World Religious Forum was held in 1993 in Ayabe, the birthplace of Oomoto and the first city in Japan to proclaim itself a World Federation Peace City.
Oomoto is a small religion in Japan, a Shinto sect founded by a woman, Nao Deguchi, in 1892. The sect sees interreligious dialogue as a central part of its divine mission. According to the teaching of its founders, interreligious work is what God created Oomoto to do.
Since the establishment of this religion in the late 19th Century, it has been unique in that its spiritual leader has always been – and continues to be – a woman. At the opening ceremony, Mme. Kurenai Deguchi, the current spiritual leader of Oomoto, the great-granddaughter of one of the founders, said: "When I look at the world, I am convinced that it is essential to promote education that values each life as a precious one that cannot be replaced, and to establish universal ethics of humanity."
In my remarks to the forum, I also stressed the importance of education for peace in Israel and the Middle East region for the future. What is needed, I believe, is a massive religious (and secular/cultural) educational campaign to change the hearts and minds of the people, on both sides of the conflict. We need a serious and systematic set of programs that will educate the next generation for the existential need to learn to live together. This will not be easy, nor will it be quick. But it will soon become the educational imperative of the times in which we live. We will have no choice, sooner or later (hopefully sooner) to bring people together to learn to live together in peace – rabbis, imams and Christian clergy; teachers, educators and principals; youth movement leaders, informal educators in a wide variety of settings, including community centers, institutes, camps and much more.
---
Dr. Ron Kronish — a rabbi and educator who has lived in Jerusalem, Israel, for the past 23 years-serves as the Director of the Interreligious Coordinating Council in Israel (ICCI).

---