By Mario Uribe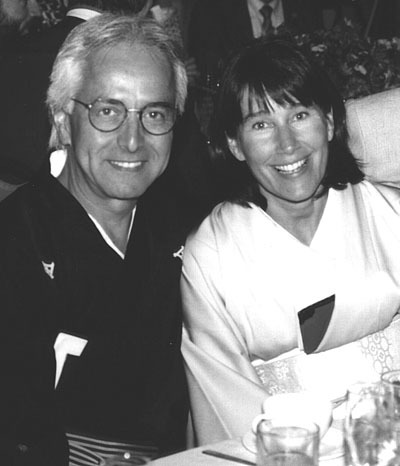 –"Ah, so desuka?", was my father's teasing response at my attempt at humor while our family sat around the dinner table on a typical Sunday evening. I was eight years old then, but I was very familiar with his retort, which I had been hearing since I was old enough to sit at the dinner table and join the conversation.
Our house in Mexico, where I grew up, was a sturdy, multi-arched, Spanish style brick house covered with white stucco and crowned with red clay tiles being slowly overtaken by the much more brilliant red of a climbing Bouganvillia vine. It was all that it appeared to be on the outside; but on the inside, a Japanese aesthetic influenced a decor and sense of mood, which deceived the outside.
Japanese furniture, dolls, baskets, and wood block prints were set off by the tearoom-green of the walls. As a consequence of my father's import business, my parents lived in Japan in 1939, and 1940, and along with their memories, they brought back to Mexico their favorite reminders of the places and people that had made their stay in Japan so special: mementos from Kyoto, Nara, Kamakura, Osaka, Kobe, Yokohama, and other places, which to an eight year-old, sounded like far away exotic fantasies from a fairy tale story. There were photos of places and friends, bronze Buddhas, sake cups, tea bowls, baskets, carvings, and, my favorite, a big bronze sitting Hotai on a pedestal, his huge round belly rubbed shiny-smooth by everyone that came into contact with it; it always brought a smile to my face – one to match his own. But not only objects did they bring back; the most enduring legacy my parents brought back, their real gift to us, was their love of Japan, which they shared with all five of us children. Of the five however, only I was bewitched completely by Japanese refinement.
Even at that young age, I was already in love with Japan and would repeat back, to my father's delight, "Ah, so desuka?", without really knowing what it meant. Now, I am an artist by profession, (and by the way, I know now what it means), and Japanese traditional arts are at the heart of my creative expression. One of the first drawings I remember signing my name to as a child, was a landscape with Mt. Fuji in the background and a Japanese fisherman going home with his catch of the day dangling from a branch that rested on his shoulder. I had copied it from a woodblock print, and gave it to my grandmother as a gift – I was four years old. I opened my heart to Japan then, and in return, Japan has filled it with measureless gifts.
My life precipitated along three cultures, Mexico, where I lived, the United States, where I was born and went to school, and Japan, where I always dreamed of being. After a long traditional Western art education, and forging ahead as an artist, I finally, and happily, came into real and physical contact with traditional Japanese arts when I attended The American School of Japanese Arts' seminar in San Francisco, in 1990. A part that lay dorment inside of me, patiently waiting, was re-born and blossomed through the practice of tea ceremony, calligraphy, kyogen, and ceramics during the ten-day seminar – which had been modeled after the Oomoto seminar. That experience led me to the realization of my long held dream of traveling to Japan, and my encounter with Oomoto, to participate in their summer seminar. My friend Bodhi Fishman and I traveled there together
–"I feel like I'm coming home", I said to Bodhi, and we both looked wide-eyed out the rear windows of the taxi cab we had taken at Kameoka station as it drove through the gates of Oomoto; my heart overflowed with emotion
–"Yes, I know what you mean.", he replied.
Bodhi stayed in Japan that year, studying at Doshisha University. I returned the next year for the 1992 reunion seminar at Oomoto – besides the arts, we learned and practiced Shinto ritual that year. To call that experience profound would not do it justice, it was beyond mere words – Oomoto and the arts became an indispensable part of me – no less than breathing. The work and philosophy of Onisaburo Deguchi and Naohi Deguchi, became an inspiration to me, and has guided me ever since, as I continue to explore my own creativity from a more spiritual perspective as a result. Since 1990, I have seriously immersed myself in the study of Chanoyu and Shodo. The principles of these two arts have become an integral part of my path in life, and their influence is evident not only in my artwork, but in my everyday life in general.
I return to Japan, and Oomoto every year, and I continue to learn and be inspired each time. Now, I also bring friends with me with which to share my experience and love of Japan, its culture, and people. A further reward is that many of them also are transformed for the better by their visit to Oomoto and their practice of the arts.
---