By Ruth Reiner
Hello. Let me introduce myself. My name is Ruth Reiner, and I am from Israel. I will be spending one year at The Oomoto Foundation, in Kameoka, as a guest from the Jewish community. During this year at Oomoto I will study about Japanese culture and Religion. During my stay, I was asked to create this weekly item reviewing the book "The Great Onisaburo Deguchi". this book has helped me understand in a more intimate way the world of Oomoto, its origins and history, and the power of their ideas.
I am a graduate from the Hebrew University, in Jerusalem. Having studied International Relations and Eastern Asian studies, this outstanding opportunity to stay at Oomoto for one year is a fascinating opportunity for me to challenge my concepts in both fields. In the International Relations aspect, the Oomoto ideology has some fantastic world peace theories. One of the things that are most emphasized in their ideology, and in the book "The Great Onisaburo Deguchi", is the idea that all elements, all beliefs, all religions and human inspirations have by nature their own values. This recognition should bring all faiths in peace to a better world.
"We should esteem variations in the gardens of religions. Who wants flowers to be all the same color?" (Onisaburo Deguchi).
In these weekly items, I would like to share with you the fascinating life story of Onisaburo Deguchi, the co-founder of Oomoto as told in the book "The great Onisaburo Deguchi". If not noted otherwise, the text will be taken directly from the english translation of the book, published in 1998. This book was written by Kyotaro Deguchi, the only son of Hidemaru Deguchi, and grandson of Onisaburo Deguchi. It is quite fascinating how Kyotaro Deguchi as a grandson expresses his impressions.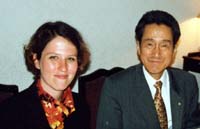 Oomoto is classed as one of the "new religions", because of its appearance on the scene at the time it did. Oomoto came into being in 1892, when Nao Deguchi, an illiterate middle age woman, was told by an inner voice to give the world "the message", and to forward the coming of the New Age. The message began, "The greater world shall burst into bloom as plum blossoms at winter's end."
For nearly ten years Nao Deguchi struggled along on her own, guided mainly by the voice of the god Ushitora-no-Konjin, who spoke through her automatic writings. These writings became Oomoto's original scriptures, called "Ofudesaki" meaning "from the tip of the writing brush". Ushitoro-no-Konjin in the writings kept on promising that "a man from the east" would come and would help Nao spread Oomoto worldwide. That man, of course was Onisaburo, and this book will reveal the outcomes of this match-up.
Onisaburo spent a great deal of time and effort to promote interfaith and inter religious activities, his concept being:
"All religions spring from the same root"
(Reikai Monogatari, "Stories from the spiritual world", Onisaburo Deguchi)
In addition to the interfaith movement, there are some other aspects that extended beyond his lifetime and are still evolving in Oomoto today:
One is Aikido: a martial art that does not see the goal of either of the opponents as wining, but rather for both opponents to come into harmony with the universe. The founder of aikido was Morihei Ueshiba, a mystical man, who toward the end of his studies with Onisaburo received cosmic consciousness while walking in the garden. In 1926, after getting Onisaburo's blessing Ueshiba moved to Tokyo to establish a movement to spread his learnings. Onisaburo then gave the name aikido, "aiki" meaning "the spirit of divine love."
Another is Esperanto: in 1923, Onisaburo started classes in Esperanto at Oomoto, and so it became Oomoto's second language. Oonisaburo saw it as the universal language that could spread god's will for love and brotherhood everywhere.
And the Aizenkai or ULBA (Universal Love and Brotherhood Association). In 1925 Onisaburo established the Jinrui Aizenkai, that may be seen as Oomoto's secular arm, devoted to humanitarian work, Oomoto-directed and Oomoto-funded.
Onisaburo was also incredibly creative. He wrote many volumes of poems, laid out the ritual and wrote the hymns and formal prayers of Oomoto. He wrote plays in which he acted himself, taught himself calligraphy and is famous for his own style (some of his most famous calligraphy are single characters several feet high). He also carved statues, made ink paintings, and designed and oversaw the construction of buildings both in Ayabe and Kameoka. Even his numerous hair styles reflected his inventive nature. Toward the end of his days he created ceramic tea bowls, with distinctive coloring and design. At first they were rejected by the conservative world of ceramic art, but eventually they were reevaluated and well respected.
In 1972, Mme. Naohi Deguchi, Onisaburo's eldest daughter who became the third spiritual leader, and her son Kyotaro Deguchi (author of this book), opened an art exhibition in Paris under the name "The art of Onisaburo Deguchi and his school", showing collected art pieces done by the hands of the leaders of Oomoto. For over three years this exhibition toured Europe and North America.
The last exhibitions were held at two Episcopalian Cathedrals. As one day Kyotaro Deguchi showed up on the steps of the Cathedral Church of St. John the Divine in New York, Kyotaro asked Dean James Parks Morton to use the cathedral for their display. Dean Morton agreed, but yet he had no idea of Kyotaro's next request, to conduct a private Oomoto service, in the cathedral, being the house of God. Dean Morton immediately agreed as an act of hospitality. Later he was asked by Kyotaro to conduct a Christian service at Oomoto. He tells us, only then he understood what it meant:
"I saw it as the New Age when he asked me to do my thing at his house, and that was the moment of truth." ("The Great Onisaburo Deguchi")
Thus Dean Morton and Kyotaro Deguchi brought into being a completely new interfaith technique, the joint worship ceremony.