by Neil Ryan Walsh
On February sixteenth, Mr. Hiromi Yano, from Oomoto's International Department, and I visited one of the Oomoto chapters in the Nagoya area, home of Toyota Corp., Seattle Mariners player Ichiro Suzuki, and hatcho miso. The trip from Kyoto to Nagoya by bullet train (Shinkansen) takes a little more than thirty minutes. Mr. Masaharu Senoo greeted us at the station, and we took a taxi to the chapter that bears the city's name.
The Nagoya chapter is located on a residential side street and looks similar to most traditional style Japanese houses. In Oomoto, a chapter, also known as a branch, is like a large parish. After we entered the central hall, Yano and I offered a prayer at the main altar. Mr. Yoshio Hori, the chapter chief, then invited us to participate in a tea ceremony.
Each chapter holds a modified tea ceremony before or after the monthly religious service, called tsukinamisai. The style of tea ceremony is a bit less formal than a full tea ceremony. Miss Rieko Ito, a twenty-six-year-old nurse from Nagoya, performed the ceremony under the watchful eye of a tea teacher. Rieko and Hori made the experience more relaxing for me by starting a casual conversation. I decided to snap a few pictures of Rieko clad in kimono, which I am sure put more pressure on her, but she remained well poised and continued making tea for guests as they trickled in.
A few more than fifty people attended this monthly service; the congregation was mostly older followers, but included a few in their twenties and thirties, some of whom had young children with them. The seven priests were all men, mostly older but one adolescent. Rieko's father, Mr. Yoshinori Ito, served as chief priest.
Just before the service began, there was a three minute period of Chinkon, a Shinto form of meditation in which the hands are placed in a mudra: left fingers interlaced over right finger with index fingers pointed upwards, thumbs crossing left over right touching the interlaced middle fingers. The Oomoto Chinkon is done to calm the spirit, and, as I understand it, is similar to Soto Zen meditation, which is characterized by letting the mind flow like a river. Nagoya is the only Oomoto branch where they perform Chinkon before a monthly service. Hori explained that he noticed many people were not ready to pray, often rushing into the hall at the last minute as the service began. So he recently decided to start using Chinkon before the service to help people get in the right frame of mind. I found it to be very grounding.
The service included kensen, which is the ritual offering of food to the altar by the priests to the tune of koto music Bill Roberts (2006) compares coordination of movement and music in kensen to a minuet. After that, the chief priest offered a prayer. Participants were then called forward for tamagushi hoten, the offering of tamagushi at the main altar. Tamagushi are branches of pine with zigzag-shaped pieces of paper affixed to them. Participants receive the tamagushi from a priest, bow, approach the main alter, offer the tamagushi, bow again and return to their seats, all to the tune of koto music. Yano and I were the first to offer tamagushi, and almost everyone in attendance made an offering, too. The congregation then prayed the Oomoto Norito and chanted selections from the daily hymnal.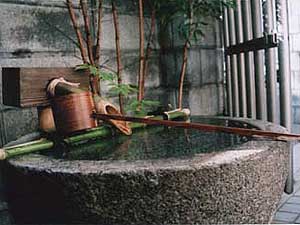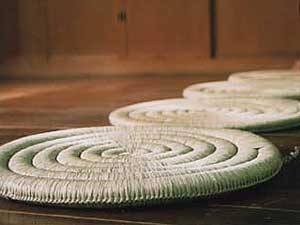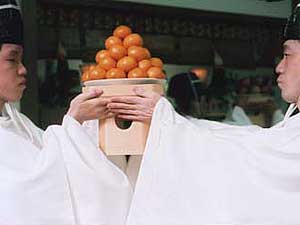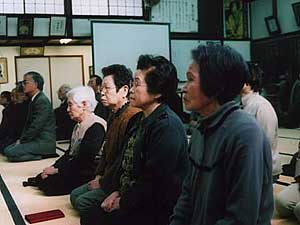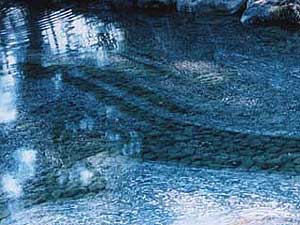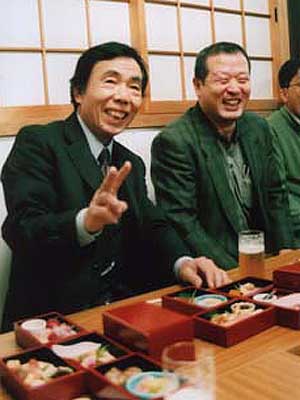 During kensen, a feeling of abundance in the offerings made to God grabbed my attention. I was able to take photographs up close to the altar and fully appreciate the bright orange of the Japanese tangerines (mikan) and oranges, the bright greens of the vegetables, and the freshness of the sea bream, all of which conveyed this sense of nature's abundance. I have had similar feelings during the monthly service in the Banshoden, Oomoto's main shrine in Kameoka, but I would describe the general mood at those services to be one of reverence to God.
At the end of the service, Hori addressed the congregation about being thankful to God while preparing and eating food. He framed his comments within the context of the recent food scandals in Japan. Ten people were poisoned by a toxic pesticide found in frozen packages of goyza, a popular Japanese-style Chinese dumpling, imported from China. He also read the Spiritual Leader's Setsubun address, which advised followers to be careful and thoughtful in all of their daily activities.
I started my speech extemporaneously by responding to Hori's address and my impressions of the service. I told the congregation that I decided to make a commitment to better appreciate the food that I eat and prepare. I believe it is important not only to participate in a religious or spiritual practice but to take a message from the practice and to put it into action. I learned this lesson from the Jungian analyst Robert Johnson's insightful and instructive book Inner Work (1984). A full version of my speech is available at the following link.
In the afternoon, Mrs. Takako Kawachi guided us around Nagoya. A longtime member of the branch, she is training to become a tea teacher, and has three adolescent sons, the oldest of whom was a priest that day. We spent the afternoon exploring the Tokugawa Art Museum and Garden. I was impressed by a few of the exhibits, including replicas and partially restored Heian-era (794-1185) scrolls of The Tale of Genji, that belonged to the Tokugawa family, who lived in that region and were part of the clan that ruled Japan for close to three-hundred years.
A special exhibition of girl's day festival dolls, known as Hina Matsuri Ningyo, made this tradition resonate with me for the first time. In this early spring tradition, families with young girls erect a seven-tiered altar on which dolls representing the figures of Heian court life are arranged. On the first tier are a king and queen surrounded by court attendants, musicians, warriors, and other figures.
As I stood in front of the doll display, I remembered that my first trip to Oomoto coincided with last year's Hina Matsuri. I also recalled a scene from the Akira Kurosawa's movie Dreams dealing with the Hina Matsuri and its association with the changing of the seasons. Staring longer at the details of each figurine, I began to think of the scene in front of me not in terms of a political court, but as a sacred mandala, like the Taizo mandala, popular in Japanese Buddhism. In the center of that mandala is the Eternal Buddha, and around him are hundreds of deities, bodhisattvas, and others.
We also strolled in the well-tended Tokugawa gardens next to the Tokugawa Art Museum.
Yano and I returned to the Nagoya branch that night for an excellent boxed dinner (obento) with sashimi, boiled vegetables, broiled salmon, pickles, and preserved shrimps. There were also homemade daikon pickles. While most people started off the evening with beer or a soft drink, I did not think twice when offered some nihonshu, rice wine, my favorite Japanese beverage!
Two members of the branch's youth division, for followers 16 to 30 years old, ducked away from the main dinner table to smoke. I decided to grub for a cigarette. What started out as a cigarette break became an almost two-hour conversation with Mr. Kozo Hori, chief of the youth division, and Mr. Kentaro Sako, a member. We talked about the perception of religion in Japan, other religious movements, and about the 1980s Japanese punk rock band The Blue Hearts. I asked them about their faith and how they feel during prayer. For them, prayer is an act of thanksgiving to God, not a plea for luck or money. Kozo and Kentaro also talked about how the inclusive concept of Bankyo Dokon (Many Teachings, One Root) was not found in other Japanese religions, as far as he knew.
Ito joined us later, and all three of them talked about the bad image religion, in particular the term "new religion," has among the Japanese public. I agreed that religion generally has a negative image in Japan, and that new religions in particular have a stigma attached to them. Ito blamed that perception on Aum Shinrikyo, the religious sect that released nerve gas in the Tokyo subway in 1995, killing 12 people and injuring thousands. I have had many conversations with Japanese people in which I have had to politely explain that Oomoto has no connection to Aum Shinrikyo.
The three guys, and others who joined us for smokes, agreed that in today's world books and the Internet would be the best way to spread Oomoto's teachings. Ito thought that Oomoto could invite popular musical groups to perform fundraising concerts in front of the main shrine in Kameoka to raise money for Oomoto's international charitable programs. Kozo is doing his part by writing an Internet blog about Oomoto youth activities in Nagoya and around Japan.
Second Day of Sightseeing : Noh stage and Nagoya castle
Branch chief Hori, tour guide Takako, Yano, and I started our second day of sightseeing at the large Noh Theater in Nagoya, which was a center of the wealthiest branch of the Tokugawa family, who were deeply committed patrons of Noh. The Noh Theater is huge, with a large exhibition space open to the public, which holds an impressive collection of Noh masks and a museum of Noh history.
After we visited the Noh Theater, we walked across the street to Nagoya Castle, which, like most Japanese castles, has been reconstructed because of fire. Nagoya Castle still has some of its original parts, but the main section is a reconstruction. From the top of the castle we had a clear 360 degree view of Nagoya. The rest of the castle had exhibits illustrating life during in the Edo period (1603-1867). For example, a kitchen with a large iron cauldron on top of which rice was cooked in a metal rice pot called a kama. Kawachi had experienced cooking rice with one of these monstrosities until her first year of grammar school.
Our next stop was the Atsuta national shrine, which Hori explained is one of the most important sites in Shrine Shinto, because it houses a special sword, one of three treasures associated with the imperial family. Like the Japanese, I am used to approaching a shrine in the following manner: put some money in the coffer at the entrance, bow twice, clap my hands twice, offer my prayers, and bow once more. This, however, was my first experience reciting the Oomoto Norito at a Shinto shrine, the end of the prayer modified to respect the God of Atsuta shrine. According to Kawachi and Hori, when Madame Kurenai Deguchi, the Spiritual Leader of Oomoto, visits the shrine she is invited into the inner sanctuary to pray. This made me aware of the importance of Oomoto in the eyes of Shrine Shinto.
After visiting the shrine and walking around its extensive grounds, we made a reservation at one of the most popular stores in Nagoya, Hitsumabushi, famous for Nagoya-style eel (unagi). The unagi dinner was fabulous. I had eaten this kind of unagi once before in Tokyo, but this meal was something special. The eel was top quality, both fatty and tender.
The eel is broiled and braised in a sweet soy-based sauce, and served in a wooden bowl (donburi) over rice. We were provided with a ceramic pitcher of hot water and a lacquer container divided into three parts, each filled with condiments — shredded seaweed (nori), freshly grated wasabi, and scallions. I used a lot of fresh wasabi because it cuts the fatty taste, and creates a more balanced flavor.
In Nagoya, it is traditional to eat this dish in four stages. First, you eat the eel and rice alone. Second, some of the eel with rice and one's choice of condiments; third is the same as the second stage with hot water added to the dish, and the fourth stage is to finish what's left of the dish as one likes.
Our last stop in Nagoya was Centrair Nagoya International Airport, opened in 2005, where we took a dip in a public bath (sento). It may be the only place in Japan where one can see planes take off and land while soaking in a hot spring-style bath. Sento are an artificial version of Japan's famous natural hot spring baths, and are usually equipped with special features, including Jacuzzis, massage baths, and even electric baths. Every traveler to Japan should have at least one Sento experience.
A quick bowl of Nagoya's famous kishimen, a flat wheat noodle, in a red miso soup, made from Nagoya's sweet red hatcho miso paste, made for the perfect ending to a spectacular two-day trip. On the train back to Kyoto, the taste of miso lingered in my mouth, making me want more of Nagoya. I have made connections there that I am sure will last a lifetime, and I am sure this is not my last trip to that wonderful city. Kawachi took this shot of me deeply involved in my shrimp tempura.
Disclosure
I am a short-term volunteer at the International Department of Oomoto. All of my travel and lodging expenses on this trip were arranged for by Oomoto, for which I am most grateful. I have written this article without censorship by Oomoto. I am not a member of Oomoto. I have never been coerced into participating in Oomoto activities. Several members have asked me about my own faith with what I believe was great objective and nonjudgmental interest.
Most of the conversations that I have written about, except for the ones with Yano, took place in Japanese, which I only understand at an intermediate level. I apologize in advance if I misrepresented the ideas of any of the people I met on my trip.
---
Works Cited
Johnson, Robert.(1986). Inner Work: Using reams and Active Imagination for Personal Growth. Harper Collins.
Roberts, Bill. (2006).A Potrait of Oomoto: The Way of Art, Spirit and Peace in the 21st Century. International Department, The Oomoto Foundation, Kameoka City, Japan.
---