By Coeleen Kiebert
This is the speech for people of Oomoto after the Sunday Monthly ceremony at Banshoden Sanctuary.(December 1, 2002)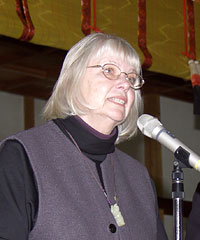 Today our California, Hawaii, Canada group completes our three week visit to Oomoto and Japan. For many of us it is the second, third, or fourth or even more return.
Why do we continue to return to Oomoto?
All of us are involved in the arts, ceramics, painting, writing, music, teaching and the healing arts. Each of us has come to an understanding that the patience of our craft is not only to improve our skills and help others, but also to integrate our involvement in these arts with our spiritual path. This is not a common belief in the United States as it is here at Oomoto.
This sense of spiritual meaning as related to our practice is realized by all of us as individuals. But, this can be a lonely pursuit. So that is the reason why we like to travel together. But, to see this belief practiced as it is in your Oomoto community, strengthens the depth of our practice and help us experience community as well. This is a major reason that we return to Oomoto.
While here we have been fortunate to study calligraphy with Sawada-san, tea ceremony with Yasu and his staff, and to produce winter and all-seasons tea bowls with Hideki Nishijima in his studio. Actually being involved in these processes has led us to say " I shall never lift and drink from a tea bowl as before, " "I shall never look at a tea bowl the same as before " and "I shall never look at calligraphy with the same eyes as before." We have all developed a deeper sensitivity.
What changes have we seen in Oomoto over these past few years?
I sense new energy among the next generation. I expect this is due in part to your new, young spiritual leader who is bringing a vitality to Oomoto which I look forward to watching unfold in the future. This seems to be the beginning of an exciting new chapter in the life of Oomoto.
Also I would add that your warm and gracious hospitality deepens each year that we come. Invitations into your homes, tea ceremony with your spiritual leader and this year an extended stay at Ayabe during which we could meditate together and chant our universal om in your shrine. Then we also had the moving experience of visiting your beautiful burial place.
So thank you for this opportunity to know you and understand your beliefs more deeply. At the same time, you offer a mirror for us to know ourselves more deeply. This not only strengthens our art forms as a spiritual path, but it also enriches our relationships with each other. This is the process that paves the road to peace.
In closing I would like to read this poem by your poet Yamabe no Akahito
This mists rise over
The still pool at "Ayabe" (Asuka)
Memory does not
Pass away so easily
---