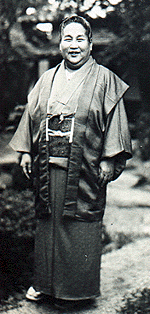 Birth and Passing
Sumiko Deguchi was born in Ayabe City in February 1883, and passed away in 1952, at sixty-nine years of age.
Childhood and Youth
Like her mother the Foundress, Sumiko was born and raised in a materially poor family. As a young woman, she lived and worked as an apprentice for various jobs in other households.
The Mission of Oomoto's Central Figures
Sumiko Deguchi was married with Oomoto's Co-Founder Onisaburo in the year 1900. From the early period of Oomoto, the Foundress and Onisaburo together were the central figures and pivotal force behind Oomoto's divine work.
Female Succession
On the tenth day of the ninth lunar month of the year 1910, Oomoto received the following divine counsel: "If Oomoto in Ayabe does not forever carry on in the lineage of Nao Deguchi, the world will not continue. The body is female, and the spirit is male. The hereditary succession is through women." With this divine instruction, the Second Spiritual Leader began this succession, bearing the responsibility to construct the Kingdom of Heaven on Earth, also known as the Age of Maitreya.
A Gentle Personality
During the Second Incident of the Oomoto Suppression (from 1935 to 1945), Sumiko Deguchi was detained in prison without sentencing for about seven years. Throughout this time, she did not for even a day display a gloomy countenance, but instead continued showing her customary gratitude and humility. When the Oomoto Incidents were resolved at the end of World War II, both Oomoto and Japan found themselves in a time of confusion. Sumiko set about working for the realization of "One World" by participating in the World Federation movement. Within Japan, Ayabe City was the first to declare itself a World Federation City of Peace. Kameoka City soon followed.
Teaching the Blessings of this Earth
Sumiko was constantly expounding upon what she called the "blessings of the moon, sun, and earth." After the war, Japan entered a period of time when food provisions were scarce. Sumiko formed an agricultural association named Aizen Mizuho-kai ("Agriculture with Love" Association) promoting the increased production of foodstuffs by natural environmentally sustainable means.
---
Foundress : Nao Deguchi
Co-Founder : Onisaburo Deguchi
Second Spiritual Leader : Sumiko Deguchi
Third Spiritual Leader : Naohi Deguchi
Alternate Spiritual Leader : Hidemaru Deguchi
Fourth Spiritual Leader : Kiyoko Deguchi
Back to The Foundress and Successive Spiritual Leaders page
---