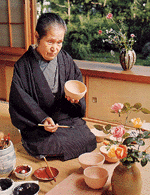 Birth and Passing
Naohi Deguchi was born in 1902, the eldest daughter of Oomoto's Co-Founder Onisaburo Deguchi and the Second Spiritual Leader, Sumiko Deguchi. She passed away in 1990, at the age of 88.
Dealing with the Oomoto Incidents
At the outset of the Second Oomoto Incident in 1935, Onisaburo, Sumiko, Naohi's husband Hidemaru, and the other Oomoto leaders were imprisoned, leaving Naohi alone with an infant in her arms. She devoted her energies to farming, and endured society's abuse and derision while working for the resolution of the Incidents. She negotiated with lawyers and procured their legal fees, provided leadership for the Oomoto followers, and overcame many obstacles to carry out the numerous other heavy responsibilities that could only be done outside of prison.
Establishing the Foundation of Faith: Religion and Art Are as One with Life
After being invested as Oomoto's Third Spiritual Leader in 1953, Naohi admonished Oomoto followers not to fall prey to the trap of self-righteousness or resignation. She established her characteristic manner of quality teachings, urging one and all to "examine your footsteps," that is, to be mindful of the basics of life.
From her youth, Naohi was raised in an environment devoted to the traditional Japanese arts. From her experience of continual, indefatigable training in calligraphy, tea ceremony, noh theater, Japanese tanka poetry, the two-stringed koto (a musical instrument), and other disciplines, Naohi emphasized the global importance of the traditional Japanese arts. She urged followers towards a higher self-awareness as members of the Japanese people, asserting that one must cultivate his own natural essence. As a matter of course many Oomoto adherents were people of culture; Naohi invited followers to meet with her and exchange ideas on aesthetic and cultural topics. In these and many other ways, she instructed followers regarding the heart and soul of Japan, urging them to live with the beauties of nature in daily practice.
Literary Works
Books by Naohi Deguchi include "My Diary," "Listening to Snow," "A Gathering of Small Leaves," and others (in Japanese). Content includes subjects ranging from the expected comportment of Oomoto followers, to social criticism, to nature and history; throughout, the Spiritual Leader's various thoughts are composed with great sensitivity and tremendous insight. Written in easy-to-understand language, they describe how to live one's life. She also wrote many books of poetry.
---
Foundress : Nao Deguchi
Co-Founder : Onisaburo Deguchi
Second Spiritual Leader : Sumiko Deguchi
Third Spiritual Leader : Naohi Deguchi
Alternate Spiritual Leader : Hidemaru Deguchi
Fourth Spiritual Leader : Kiyoko Deguchi
Back to The Foundress and Successive Spiritual Leaders page
---